What has been funded by stadt_potenziale?
Since stadt_potenziale first took place in 2008, between six and 15 projects have been funded each year under the funding pot and awarded between 60,000 and 100,000 euros. The funding amounts for individual projects have ranged from 1,700 to 21,000 euros, with emphasis on being able to fully fund projects.
A large proportion of the projects are cross-disciplinary or interdisciplinary . Many are discursive, dealing with cultural mediation, old and new media. Some continue to exist or have at least lasted for several years, others were only present for a few hours or days.
What have emerged: Records, festivals, films, a magazine, a city guide, websites, radio programs, sculptures, visuals, compositions, temporary work spaces, etc.
In which fields did stadt_potenziale support projects?
Projects funded under stadt_potenziale took place in the following divisions :
Print
Photography
History
Art in public space
Literature
Music
Performance
Dance
Theater
etc. ..
Who was on the jury?
2022
Kathrin Aste, architect, University of Innsbruck
Maruice Kumar, freelance writer
Angelika Burtscher, design and arts, freelance designer
2021
Martin Fritz, writer, Innsbruck
Hannah Crepaz, cultural organizer, Hall
Petra Unger, cultural mediator, Vienna
2020
Paul Klumper, ITS district coordinator Reichenau, Innsbruck
Carmen Brucic, artist, Innsbruck
Elke Rauth, Editor, Association for Urban Research, Vienna
2019
Lisa Mazza, freelance cuator and cultural producer, Bolzano
Esther Strauß, performance and language artist, Vienna, London, Kolkata, Innsbruck
Theresa Schütz, architect, Vienna
2018
Petja Dimitrova, visual artist, Vienna
Michaela Senn, actress, director, Innsbruck
Stefan Bidner, curator, musician, Vienna
Overview of the winning projects
city_potentials 2022
Rest in Poetry
A project by Carolina Schutti
Funding amount: 9,000 euros
Implementation: 2023/2024
What is it about?
Our society is in a state of flux, the pandemic, the Russian war of aggression, climate change, inflation, the actual consequences for our coexistence cannot be foreseen. In this time of polarizations and uncertainties of all kinds, a discussion of existential questions (and death) conducted on a literary level is essential - it represents an important contribution to the general discourse.
Bringing literature and (cemetery) architecture together, relating the living and the dead by means of language, connecting past and present, and stimulating discourse among the population are the objectives of "Rest in Poetry". Specifically, we invite literary artists to take on a challenge: To read at cemeteries (for the dead) without an audience, accompanied only by the "Rest in Poetry" team, Tina Feyrer (camera) & Michael Stavaric (concept, production), as well as the respective partner:s on site. Tiny Feyrer's unique film language connects the literary dialogues with a part of the public space that is entirely dedicated to the dead.
This project takes up an idea started elsewhere, transforms it, and at the same time is intended to pass the relay to another location after the project's completion: Special attention is paid to local and cross-border cooperation.
From use & ornament
A project by Melanie Gandyra
Funding amount: 19.550 Euro
Implementation: 2023/2024
What is it about?
The project "Von Nutz & Zier" ("Of Use & Adornment") is a book that aims to make a place that is so important for Innsbruck, but which is rich in shadows, more visible and accessible. The Hofgarten and the Palmenhaus, form a welcome opportunity in the city for green everyday escape. At the same time, they are full of history and information that even most Innsbruck residents tend to keep hidden.
Over 600 years of garden history entwine themselves between the branches and leaves of the Hofgarten. Ancient trees line up in front of the alpine mountain panorama, forming one of the oldest and most pristine pleasure gardens in Europe.
In "Von Nutz & Zier" (Of Use & Adornment) the origin of the court garden, as well as important persons in the time events are to be processed historically and as graphic narration. The structure of the garden with site plans, maps and infographics will be explained and thus serve as a guide for the inspection of the
the places. In the same way, the plants that can be admired there are to be presented in a visually accessible and understandable way. It is intended to provide a journey through European garden art history, which, underpinned with basic botanical knowledge, aims to raise awareness of the special features of the Hofgarten, but also of colonial theft of nature.
The book project is intended to have an informative effect parallel to a visit to this place in order to make it more comprehensible. Green oases in the urban space are rare in Innsbruck and it is all the more important to protect and preserve them.
Model for inclusive cultural promotion
A cooperation project of TKI - Tyrolean Cultural Initiatives and Initiative Minorities Tyrol
Funding amount: 9.000 Euro
Implementation: 2023
What is it about?
Culture for all and culture by all! This slogan, coined in the 1970s, marked the beginning of a state cultural policy in Austria in the direction of democratization and decentralization of cultural activities as well as the beginning of a state funding system that should not only be accessible to representatives of the so-called high culture. Since then, a lot has happened, many cities - including Innsbruck - have established a public funding system for art and culture. But the claim of "culture by all" has not yet been realized. On closer inspection, it becomes clear that even the municipal funding system is not equally accessible to everyone. For cultural associations and artists* with migration history and multiple affiliations, there are invisible hurdles that can have several reasons - language barriers are only one of them. We, the TKI-Tyrolean Cultural Initiatives and the Initiative Minorities Tyrol, have set ourselves the goal with this project to identify, together with representatives of migrant (cultural) organizations and individuals, the structural exclusion mechanisms in the municipal cultural funding system and to jointly develop concrete proposals for solutions for a more inclusive and diverse cultural funding. We believe that all cultural actors in Innsbruck will benefit from an improvement in accessibility to cultural funding and that our pilot project can also serve as an inspiration for other cities and municipalities.
7 days week
A project by Studio Fundus
Funding amount: 19.550 Euro
Implementation: 2023
What is it about?
During one week in May, the district of Wilten will be played with in a variety of ways. Every day, a different invitation will be extended to the residents and users of the neighborhood. An invitation to talk. An invitation to leave stories and share photos. An invitation to individually remeasure the boundaries of the neighborhood. An invitation to send out voices and experience resonances. An invitation to change one's perspective and to reposition oneself in the district.
Each action, each invitation builds on the previous one. In the course of the week, a new audiovisual image of the district emerges, fed by the experiences of its users.
The program will be supplemented by lectures and discussions with organizations, associations and experts who are active in the district. On weekends there is an additional program for children and last but not least there is the possibility to eat together and maybe even dance!
A simple mobile structure forms the scenography for the program. It marks the place, attracts attention and is at the same time a display for the collected contributions and interventions of the active audience. It is set up on the Wiltener Platzl, questions its quality as a district center and wanders from there into the surrounding streets
Moshpit
A project by Aesthetics Athletics
Funding amount: 12.900 Euro
Implementation: 2023
What is it about?
The mosh pit.
Is the uninhibited, wild colliding of mostly strangers at a concert still contemporary? Does the mosh pit represent a hierarchy according to the motto "the strongest person wins" and cannot be reconciled with values such as equality or the inclusion of all groups of people? Do we need to make loss of control a taboo?
We say, no.
The mosh pit is created by charged emotion, by the positive & active exchange of energy between individuals. In the moment of the moshpit, all that often seems to get lost in our ever faster society is discharged: the emotions between us.
But: Hierarchies always belong to be questioned.
Based on this conviction, we would like to reinterpret the moshpit, which in reality is usually a phenomenon characterized by classical hierarchies.
The term "Safe Space" plays a role in this. In this spectral space, existing structures that lead to harassment, exclusion or even physical violence are to be counteracted through education & self-examination.
The project "Moshpit" aims to bring a discourse about "Safe Space" into the urban consciousness of Innsbruck through performance, flashmob, discussion & exhibition with direct participation possibility, not accepting fundamental truths underlying first impressions and exploring the dynamic-progressive space of the moshpit.
city_potentials 2021
against:WAIT
A project by Kulturkollektiv Contrapunkt
Funding amount: 21.000 Euro
Realization: 2021/2022
What is it about?
The Covid 19 pandemic has made social conflict lines visible and swept across social life like a tornado. The pandemic made so some social conflicts visible and . The cultural collective ContrApunkt wants to address these open social fault lines and will raise questions in the form of the Discourse(iv) Festival gegen.WART - your Discourse(iv) Festival for heterogeneous positions. On the one hand, the focus will be on negotiating heterogeneous positions; on the other hand, we are also interested in making visions and utopias the subject of discussion. As a common thread of the festival, we want to explore the question of what kind of society we actually want to live in. For the festival we are defining six different thematic fields, to which we are inviting theoreticians, activists and practitioners, i.e. people who see society as something made and changeable.
HORIZONT please
A project by Nicole Weniger
Funding amount: 15,675 euros
Implementation: 2021/2022
What is it about?
With the action HORIZONT bitte, the artist Nicole Weniger wants to point to the phrase of broadening horizons in the spiritual and intellectual sense and to place this desire for an openness to the new and unknown in public space. HORIZONT please can be understood as a demand, a hint and a wish. A request to keep the boundaries of one's own thinking flexible, to point out that this is an active process that should be consciously encouraged, and a wish to enable the broadening of horizons also within the cultural life in Innsbruck on the part of the city.
The lettering HORIZONT please marks the bank of the Inn River as a new landmark for the city of Innsbruck and also serves as a landing stage for several performances. In addition to the installation of the lettering HORIZONT bitte, invited artists can present their interpretation on the theme of the horizon. HORIZONT bitte invites you to dream, lets your thoughts fly free and allows for other perspectives. For a short time, the banks of the Inn River will be transformed into a heterotopia of far-sightedness.
Market Quarter Poetry
A project by Literaturverein Cognac & Biskotten
Funding amount: 7.000 Euro
Implementation: 2021/2022
What is it about?
The urban Innsbruck literary club Cognac & Biskotten, which has been tirelessly realizing innovative cultural projects and culturally playing on city districts for 24 years, dedicates its latest experiment to "Marktviertel Poesie," which is only recognizable at second glance.
15 Innsbruck artists will creatively explore a part of their city, namely in text, music and image. For this purpose, urban authors and musicians are to be found who would like to deal with the Marktviertel and the city as a general theme in their works or who have already dealt with it. Pictorially complemented by photographic painterly large formats of an Innsbruck artist.
After a six-month production phase, the resulting programs will be presented to the public by means of live performances at 7 different locations in the Marktviertel. On 7 days of a week, each day a different pair of artists will perform their literary and musical works at one location for about half an hour.
All around the questions: How does a city shape its artists, how does the city flow into poems, stories, music and pictures? Artistically diverse, "street art" is to be created in the truest sense of the word, and a stage is to be offered to urban "home densification".
A voyage of discovery into the seemingly insignificant, off the beaten tourist tracks and glossy worlds. An examination of "non-places" that reveal their fragile poetry upon closer inspection.
Letter to (y)our future city
A project by Verein Freifall
Funding amount: 9.800 Euro
Implementation: 2021/2022
What is it about?
The project Letter to (y)our future city - Workshop I Installation I Performance - wants to find ways from a "closed" city to an "open" city. This is to be tested by means of a workshop in cooperation with various Innsbruck institutions and by means of a subsequent installation in public space (Innsbruck's marketplace) or a performance based on it. In the workshop the participants will write two letters to their future city. The first letter is about the personal utopia of this future city and the second "open" letter is about the utopias of the other participants and is addressed to a specific address in Innsbruck.
Together we might find ways from a closed city of order, surveillance and marginalization to an open city of lively disorder, of responsible co-existence and coexistence - from rigidity and default to openness and appropriation. We want a city where people of all languages, skin colors, ages, arts, activities, chromosomal arrangements, and sexual orientations, as well as animals and plants, can unfold, meet, disturb, and calm each other. The letters will then be presented to the public in an installation at the market place in Innsbruck and form the foundation and the content for a transdisciplinary performance taking place just there: A wish list to the city of Innsbruck!

#wegonnabreath
A project of Black Community Innsbruck
Funding amount: 10.000 Euro
Implementation: 2021/2022
What is it about?
"If I didn't define myself for myself, I would be crunched into other people's fantasies for me and eaten alive"
(Audre Lorde)
Who we are
The Black Community IBK came into being during the protests against the murder of George Floyd, following the need to organize together, sustainably and lovingly, to advocate for the freedom and justice of Black people in Innsbruck. Our work is consciously aimed at forming and promoting a Black community in the struggle against racism and deprivation that is aware of its history and does not use the same mechanisms of oppression against each other.
We want to write a piece of 'Black History' in Innsbruck with the project #wegonnabreath.
Black History
Our work strives to create access to "their" history for Black people in Innsbruck, in order to be able to comprehend current social structures and individual inclusion based on this. Black people have been part of Austrian society for centuries and thus also part of Austrian history. Nevertheless, we are structurally excluded or described as foreign in the local culture of remembrance and history. Essentialist notions of national belonging are to be sustainably rejected on this path.
We want to get in touch with people and their biographies, stories, everyday life and creative, working and thinking, which are otherwise hardly heard in Innsbruck. We want to research, discover, learn, celebrate, chill and document everything together.
We, the Black Community Innsbruck, are making plans for this project and have been for a while: so the time is now ripe to implement them, to step into the public eye, to strengthen our community and let it grow.
With our work we want to advance our ideas of an open, more solidary and plural society. To do this, it is necessary to show that such a society has long been there, and that it holds great wealth. With the project we want to show that people from the African Diaspora shape the culture and history of Innsbruck in many ways and that there is much to learn from them.
Background of the project
More than 60 years ago, the African-American writer James Baldwin came to Europe and stated: Most Europeans:inside had never seen a black person. Baldwin felt like a sight to behold: "If I sat in the sun for more than five minutes, some particularly brave creature was sure to come up to me and anxiously put his hand on my hand and wonder why the color didn't come off," he wrote in "Stranger in The Village" in 1955. Much has changed since then, Austrian society is becoming increasingly pluralistic, black people are part of everyday life and will continue to shape Austria in the future.
What about Innsbruck?
Innsbruck, its mountains and tourism are a central place for history, migration and life. Black people have come and continue to come from many different countries and for many different reasons. Many were born here as Austrians, others come from America, Africa, many are asylum seekers. But hardly anyone knows our history. Who are we? What are our stories? How do we live in Innsbruck? What experiences do we have here? What connection do we have to the city and its inhabitants? What can we change and how can we make change work? What experiences of discrimination (from racist club door politics to institutional racism) do we face in Innsbruck?
Our project wants to change this. The focus is on Black people, our voices were and are often the least heard. We work with the goal of fostering a network that recognizes and applies the everyday experiences and empowerments of each Black person - given age, actual or perceived gender identity, sexual orientation, economic or social status, immigration or residency status, religious belief or non-belief - to end all forms of oppression.
We believe we have an obligation to make our activities family-friendly in order to enable parents and children to participate in a sustainable and active way. In doing so, we aim to break away from westernized, patriarchal ideas and family structures by viewing each other as extended family. In concrete terms, this means supporting each other and taking an interest in each other together.
Each one teaches one - intergenerationality
We are committed to fostering an intergenerational and community network free of age discrimination. We believe that all people, regardless of age, have capacities for learning and teaching. Moreover, we see intergenerational collaboration as a valuable resource that connects diverse spectrums of experience to new visions and enriches our community-based work ideologically and conceptually.
city_potential 2020
The city belongs to all of us
A project of the association Women from all countries
Funding amount: 14.689,13
Implementation: 2020/2021
Project description
In terms of content, the exhibition will on the one hand make visible the perspectives of those women who helped to shape the now processed results in the workshops in 2019, as well as their view of Innsbruck and the city. On the other hand, reflection impulses for a (self-)critical examination of questions about mobility and movement in public space as well as privileges in this context will be elaborated. In order to make the exhibition accessible to as many people as possible, it will be didacticized by two German language trainers and finally workshops will be offered for women with migration and or refugee histories.
Exhibition opening: The city belongs to us all.
Migrant women publish themselves in public space.
Based on these questions, a series of workshops was conducted among women from all countries as part of the project The City Belongs to All of Us 2019. In the process, a group of migrant women* dealt with Innsbruck as a city and as a living space. They exchanged ideas about their life in Innsbruck, visited places that are important to them in excursions and processed their impressions in a creative way. From this, a traveling exhibition consisting of 11 thematic roll-ups was conceived within the framework of City Potentials 2020. In it, the group shows their view of the city and at the same time takes up space in this city. But also reflection impulses are set, which want to initiate a reflection about the obstacles and possibilities of participation in a city.
The traveling exhibition was on display until 04.03.2022 as part of the event series "aus.grenzen:auf.machen" in the foyer of the BFI Tyrol.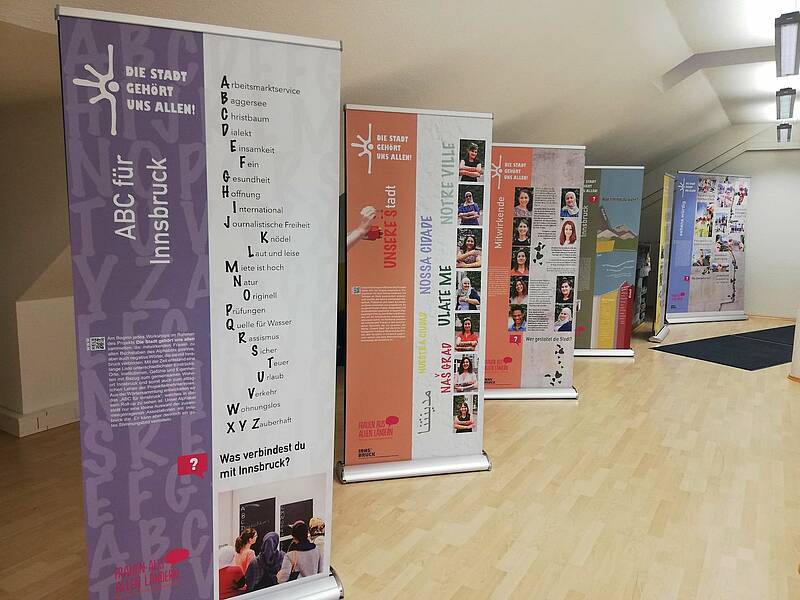 Innsbruck everyday stories
A project by Zweitgeschichte
Funding amount: 9.356,18
Implementation: 2020/2021
What is it about
In this project we tell the story of the day the Ibiza affair came to public attention from the point of view of several members of the Initiative Schwarze Frauen* Innsbruck. This will be done by means of a paper theater, which brings an art form that has fallen into the past into the present. Paper theater is a low-threshold form of theater-making. Paper figures glued on wood play in front of changing paper locations. Our political theater addresses the impact of right-wing populist politics on marginalized groups in our society, with the goal of making political moods and attitudes palpable.
Ischgl. Uprising of the Penguins (submitted as: Ischgl. An aprés apres ski)
A project by Postmodern Talking - Franz-Xaver Franz
Funding amount: 13.000 Euro
Implementation: 2021/2022
Project description
"Ischgl. An aprés Apres Ski" is a semi-documentary theater piece that deals with the events surrounding the events in Ischgl (and the whole of Tyrol) that caused a sensation throughout europe in the course of the covid-19 spread from different perspectives.
we want to focus on those people who, as is so often the case, remain largely invisible: the migrant seasonal workers who work in the Tyrol not only in agriculture, in such large numbers that without them economic collapse is imminent (harvest workers), but also in tourism. they are the ones who guarantee Innsbruck's wealth, who secure our prosperity at the gates of the city. we want to follow their trail, out of the city, to areas like Ischgl, St. Anton and the Zillertal, places that, at least to me personally, seem more distant and foreign than Berlin or New York.
What did the realization look like?
A crazy journey through two years of pandemic, from Ischgl to Europe's external borders, from Wuhan to Bergamo and back, to the winter sports mecca where some people did everything right and others know everything better. Today the question is no longer whether Tyrol can survive without tourism, but in spite of tourism. In Ischgl. Aufstand der Pinguine (Rebellion of the Penguins), mass tourism becomes a mass test, penguins rehearse the rebellion, hoteliers end up in a monastery and Xaver Schumacher and Meera Theunert prove that they have lost everything but their laughter.
By and with: Xaver Schumacher and Meera Theunert. A Postmodern Talking production
Research: Sónia Melo. Costume design: Wiebke Strombeck. Artistic collaboration: Lia Sudermann, Martin Fritz, Elias Candolini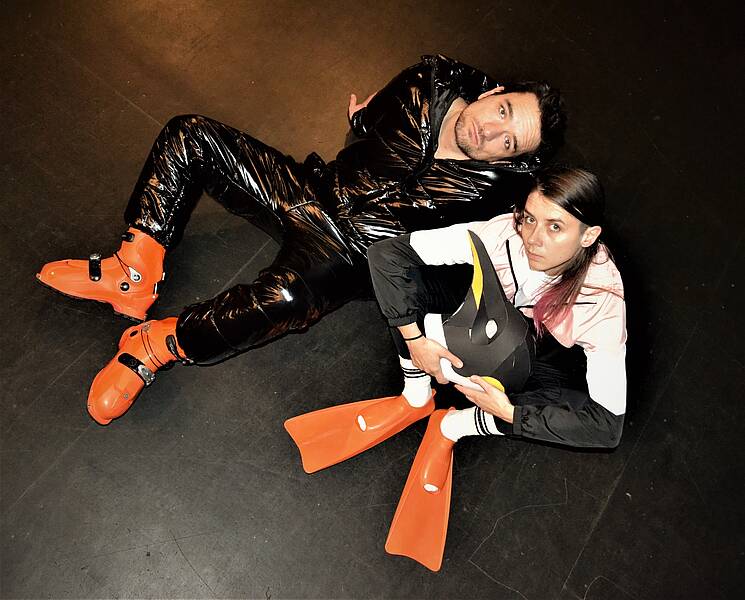 Lie, Cunning, Denial
A project by Zweiwerk - Carolin Bohn and Anna von Schrottenberg
Funding amount: 10.130 Euro
Implementation: 2020/2021
Project description
Lie, Cunning, Denial. Workshop on a European culture/history with performative precipitation
The theater workshop on "Lies, Cunning and Denial" opens a space that, beyond a moral embodiment, asks questions. What use is this or that lie to us? Is it worth it? Is it even possible to live without it? What would a world - and a politics - look like without lies? What would a world look like in which a distinction is made between good and bad lies? What would one look like in which this question does not play a role? With Corona, we live in a time of uncertainty; no one knows what to do, whether they are infected, how dangerous the pandemic is, whether the global curfew is doing its job. Not having a plan is like chaos in the mind, extremely unsettling: can this still be an opportunity? Can we, in the midst of and after the first Corona wave, still delude ourselves, or are we deluding ourselves of safety all the more? Does lying still work, how does it currently work? Is it still helpful or is it just abolishing itself?
We research on site and interview passers-by, participants of the workshop and in institutions such as old people's homes, schools, city administrations, prisons, universities, therapy centers. In the end, a kaleidoscope of individual and institutional strategies of lying and deception, personal gains and losses through lying and deception, disillusionment and vision in regard to the everyday tool of dissimulation is created. The results will be dramaturgically prepared and presented for a final performance with workshop participants.
Project performance: Lie, Cunning, Denial
Was my last lie useful? What is its price? Is denial worth it? What would a world without lies look like? Is the lie still useful? Is it just doing away with itself?
A dizzying kaleidoscope of individual denials and institutional lying strategies emerged at www.luegen.net: Stories of personal gain and painful loss through lies, of disillusionment through deception, of grand visions and unbelievable impudence with regard to the everyday tool of dissimulation join together - beyond moral claims or evaluations.
Starting in May 2021, the project initially appeared in an online guise; in July, the project leaders Anna von Schrottenberg and Carolin Bohn - in alignment with the respective Corona regulations - realized workshops and a work-in-progress exhibition around the theme of lying: telling, listening, playing, writing, drawing. The website was populated with stories of lies, and the project was accompanied by a blog.
Every story of lies was welcome, every thought and feeling about lies, cunning, denial. Anyone who still has a story in stock can submit it by email to info@luegen.net.
Kaleidoscope
The Lie List Denial Kaleidoscope to hear, see, read ... was live in July 2021 and has since been available online at: www.luegen.net/kaleidoskop
Workshops
An overview of the workshops that were realized as part of the project can be found at www.luegen.net/workshops
Exhibition
In July 2021 an exhibition took place in the Kesselhaus at Karmelitergasse 21 in Innsbruck. More details at www.luegen.net/ausstellung
Of Fathers and Sons (submitted as Adam's Heirs)
A project by Nicola Nagy and Marlene Schlichtenhorst
Funding amount: 13,700 euros
Implementation: 2020-2022
Project description upon submission
(Under the title "Adam's heirs - a family biographical search for traces between city and country")

Von Vätern und Söhnen is an ethnographic documentary about the movement from the city to the countryside as well as from the countryside to the city and the resulting connections from the perspective of men of three generations of a Tyrolean family. Grandfather, father and son share their biographies against the background of different socio-spatial positioning in the city, the countryside and in between. The focus is on the generational relationship and the traditional as well as changing ideas of masculinity in the life plans of the three protagonists.

Hugo has lived in the Pitztal for 85 years, Martin left the valley of his childhood at an early age, Jeremias is a stranger to this (grand)paternal home, having grown up in Innsbruck. The filmmakers moderate an open-ended encounter between the three men, a social experiment that points beyond itself: Adam's Heirs superficially portrays a very personal family biographical conversation about city and country. But what is expressed through it is exemplary for numerous Tyrolean family biographies and the directly related questions of identity and perpetuating family dynamics, in light of religious convictions as well as ideas of tradition, homeland and masculinity.

How much rural valley lives on in the city? How much city is carried into rural life? What notions of masculinity manifest themselves across generations and in different lifestyles in urban and rural areas? These questions form the common thread for the film Adam's Heirs, which sees itself as a family biographical search for traces as well as a critical questioning of social constructions of masculinity.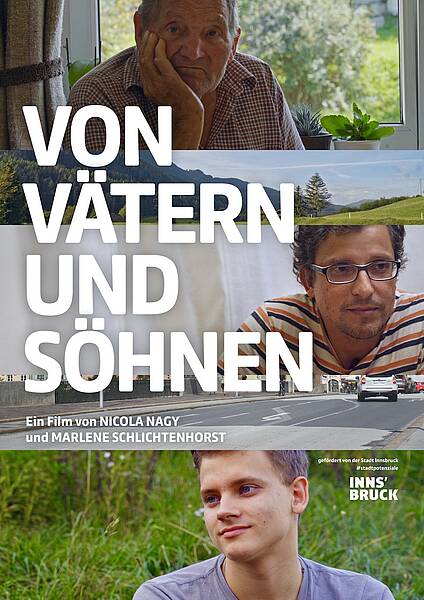 Time machine #1
A project of the association Freifall
Funding amount: 9.124,69 Euro
Implementation: 2020/2021
Project description
Michael Ende once wrote a note on a piece of paper. He kept writing notes on little pieces of paper. He called them notepads. One of them is called "The Lost Man" and reads as follows: "He hands himself in at the lost and found, sits down on the shelf there. Now and then he asks the clerk if an owner hasn't come forward. After year and day, he gets himself, since he is the finder."
We want to create a space in which we can give ourselves up for a moment, in which we can give ourselves up, in which we can stop time or in which we can take our time. A shelter. A catch basin. A bunker. A base camp. A cave. An igloo. A temple. A modern chapel. A space capsule. A spaceship. A time machine with which we can look into the past and into the future. But above all, a time machine that allows us to look into the present. A space in which we can, as I said, stop time and take a break from the hectic, fast-paced and noisy life outside. A space of silence. A space of contemplation. A space for new ideas. For new ways of encountering ourselves and the whole world. A space where we can find ourselves and where we can give up (ourselves). (To) give up may not mean to turn away from the world. It may mean just the opposite. Turning toward the world.
city_potentials 2019
The literary tattoo
A project of literature club/magazine cognac and biscotti
Funding amount: 7,000 euros
Realization: February 2021
"The literary tattoo"
Issue No. 42, 23rd or 24th volume, of the Tyrolean literary magazine Cognac & Biskotten
on the topic "Under the skin
Place: Tattoo studio(s) or fair or other places, Innsbruck
The urban Innsbruck literary magazine Cognac & Biskotten, which has been changing theme, format and presentation location from issue to issue for 22 years and thus always reinvents itself, is now digging deep under the skin with its issue No. 42 in 2020/2021 after impressive issues such as the literary streetcar or the literary plastic bag.
Not only (in the figurative sense as before) deep under the epidermis into the heads and hearts of readers and listeners, but in the truest sense into the dermis of the authors. This time, the selected texts of the respective authors will be engraved as tattoos on their skin.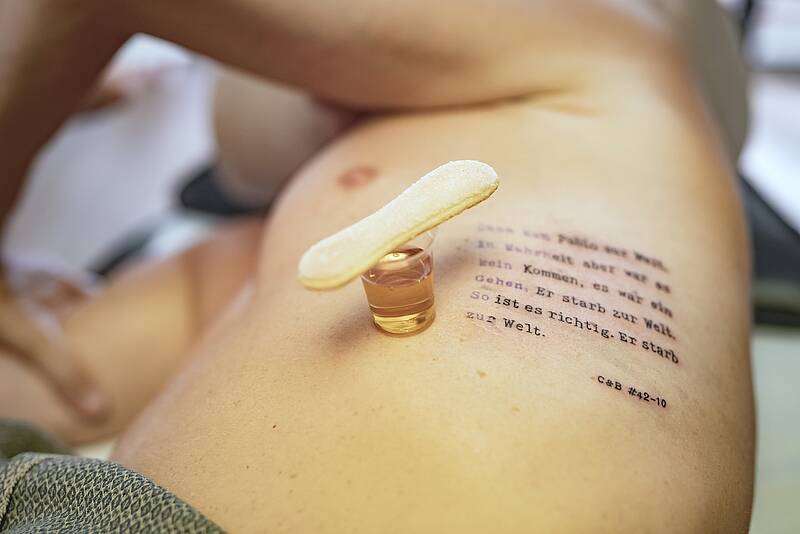 Ten to 15 authors (preferably from Innsbruck and Tiral) thus form this urban art edition, which can neither be purchased nor delivered to the National Library as a deposit copy, but only (continues to) exist through the existence of its authors.
The presentation will take place as a tattoo session over one or more days in a tattoo studio or at a tattoo fair in Innsbruck. Accompanied by live music, performances and readings on the theme "Under the Skin" (especially by those authors who are currently tattooed).
All texts, recordings of the presentation and events of the sessions will be documented and subsequently published in a brochure, which, however, is only to be understood as a reminder or documentation (and not as an issue of Co & Bi).
Riot brushes feast - Goschat and zwieder
A project by Krawallbürsten Kollektiv
Funding amount: 4.340 Euro
Realization: 11. and 12.10.2019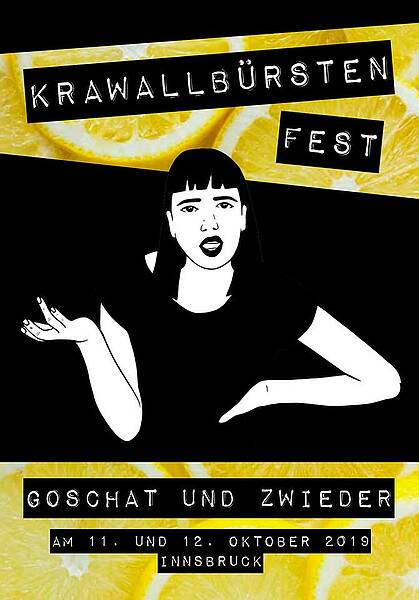 Project description:
Goschat and zwieder - women, lesbians, inter, trans, agender and nonbinary (FLlTAN*) persons in the cultural scene all too often still have reason to do so. The focus of the project "Krawallbürsten Fest" is on the still existing underrepresentation of FLlTAN* persons in the music and cultural scene, both on stage and in relation to promoters and organizers. Even autonomous cultural initiatives are usually not space-giving islands for culturally motivated FLlTAN* persons apart from reproduction work in the background - shopping and cooking for the events are taken on just as much as bar shifts and cleaning the day after. Nevertheless, communication and external representation, i.e. public relations, booking and finances, are often in male hands. As a result, the positions on the board of directors are also filled accordingly. Of course, these observations do not apply equally to all cultural initiatives, but there are nevertheless noticeable tendencies in this direction. We want to critically reflect on these working practices in cultural work, make the existing gender hierarchies visible and, in the spirit of goschat und zwieder, react to the difficulty of being independent in the cis-male dominated event business within the framework of a self-empowering festival. The Krawallbürsten Fest is intended to be a non-commercial, two-day art and culture festival (workshops, concerts, performances) where space is created for the discussion of feminist and queer issues.
Krawallbürsten Fest - Goschat and zwieder
Program:
11.10.2019
Lecture at Decentral (Hallerstr. 1), followed by concerts
Shoki (D-Beat, Milan) | Lucta (Punk, Milan) | Afterparty with Sandy im Getriebe

12.10.2019
Gattaca (crust punk) | Babsi Tollwut (rap) | The Cleopatras (rock'n'roll/surf) | Amanda X (post punk) | Absatz1 (techno/singer songwriter) | Drowning Dog & Malatesta (rap) and DJane Ultra Ulla
Gap filler - More instead of empty
A project by DIE LÜCKE - Association for Temporary Interim Use ..
Funding amount: 13.000 Euro
Project description
Almost all cities in Austria have already created bodies in the administration and/or interest groups in the form of associations to deal with the issue of vacancies.
In Innsbruck and Tyrol this organization is still missing completely. We want to close this gap and/or the association is to close the gap, with the attached tools the suitable framework give.
Vacancies arise for various reasons: Fears, lack of demand, lack of immediately visible quality, high age - of the space and/or owner, inheritance difficulties, habit to the "not usable" vacancy. These fears, this lack must be eliminated.
With awareness work, education, references - and this as freely, playfully and democratically as possible. That's why we have to deal with this topic now, before new laws and rules take effect in a few years, which favor economic drivers and the shortage of affordable spaces becomes greater and greater.
PROJECT OF THE VACANCY FILLER - Tracking down vacant spaces
Vacant spaces are an urban resource that should be accessible to as many people as possible. Thus, vacant spaces become spaces of opportunity. In Innsbruck, rents have risen disproportionately in recent years and living space is scarce and expensive, more expensive than in many other cities due to the geographical location in the Inn Valley. We want to track down vacant spaces, make them visible and discuss the potential with experts.
PROCEDURE
Preparation: min. 4 weeks in advance, community bulletin, newspaper, online, organize speakers, fix date
Implementation: Kick-off event with presentations and discussions, citizen participation, together track down vacancies, map them, document them, make them visible, find out the reasons, discuss problems
Follow-up: evaluate information collected from vacant properties, make visible
Future visions: Online platform where you connect vacant property owners with vacant property users
Music regulars' table Innsbruck
A project of LoR. Legends of Rock
Funding amount: 5,000 euros
Implementation: ongoing; Musikstammtisch Festival: 2019
Project description for submission
The Music Regulars' Table was launched in the fall of 2017 as a project of the LoR. initiative as a radio show on Radio Freirad. Bands were invited to present their compositions live in the studio. Due to the large participation of musicians from the region, the idea arose during the first Stammtisch to establish the live broadcast as a constant in the local music scene.
After the second regulars' table with more than 80 registrations of musicians and guests, the Musikstammtisch moved to the Innsbrucker Treibhaus, where the musicians were welcomed with open arms and from then on the regular regulars' tables were held four times a year.
As a live format, the Musikstammtisch is so far unique throughout Austria and underlines Innsbruck as a breeding ground for innovative Tyrolean music. As a highlight of the event series in 2019, a "Musikstammtisch Festival" has been planned for the first time at the end of the year, which exceeds the dimensions of the regular Stammtische and in which four bands have been selected by the project operators, who have already performed at the Stammtisch in Treibhaus during the course of the event series.
The association "LoR. Legends of Rock" cooperates for this project with the Treibhaus and Radio FREIRAD.
Project realization: Musikstammtisch Innsbruck
The Musikstammtisch is a networking project initiated by the cultural association LoR. Legends of Rock. In cooperation with freirad Freies Radio Innsbruck and the Treibhaus, concerts were regularly organized and broadcast live on Freirad. The Musikstammtisch profiled Innsbruck as a place of musical diversity and contributed significantly to the visibility of local musicians*. Furthermore, the Musikstammtisch initiated cooperations between artists and offered newcomers an adequate platform.
Exceptional successes include the Frauenzimmer (Women's Room), a special version of the Musikstammtisch for the promotion of female musicians, and the Musikstammtisch Festival.
Dining rooms - how food shapes our living space
A project of feld - association for the use of unused objects
stadt_potenziale 2010, funding amount: 5,050.-
Implementation: October 2020
Project description
How does our food shape our living space? How does our food culture shape the city in which we live? Food and nutrition have a direct influence on architecture, on traffic, on trade, on production. How does this influence show itself? What structures can be found today and how did they develop?
The supply of food to the population is subject to constant change. This not only affects the amount of food used, but also changes the urban space. The Feld-Verein planned to research together, to find connections, to experience or to question them and thus to offer an insight into the present existing structures.
Conception and planning
For the implementation of the project "Speiseräume" the twelve members of feld-verein.at Verein zur Nutzung von Ungenutztem designed and planned excursions around the topic of sustainable nutrition in working groups. Research was carried out, contents were determined, excursion routes were mapped out and further preparatory work was done. Five excursions were planned for the fall of 2020:
City walk: food supply/marketing in the city, historical anecdotes, changes in the city and visible traces, collective knowledge of the inhabitants
Large-scale producer excursion by bike: supply of the city, development of agriculture, spatial decoupling - visit of vegetable farms around Innsbruck
Urban farmers Excursion on foot: urban agriculture - changes, challenges and perseverance, impact on the cityscape, direct supply of the population
Bread & Cereals Excursion by bike: supply of the city, development of bakeries, spatial and social changes due to the food bread
DinnerDeluxe: out and surplus vegetables served exclusively by the feld association, space for discussion and common conclusion
Realization
In the first excursion of "Speiseräume" (photos), the feld-Verein led a group of interested people to city farmers & farm women in Innsbruck in October 2020. The other planned excursions had to be postponed several times and finally cancelled due to the continuing planning uncertainty in 2020/2021.
Top Secret
A project by Katharina Cibulka
Funding amount: 12.820 Euro
Implementation: Spring 2020 or spring 2021
Project description
Attention This is a cloistered text.
TOP SECRET works mainly through the element of surprise. So you are intentionally made an ally here.
The prehistory
My father, born in 1927, is now more than ever reliving his childhood experiences from the interwar years. Stirred up by the creeping change of attitudes in our present, still peaceful times, he digs up a propaganda action of the NSDAP from 1938 from his memory and thus makes us posthumous witnesses of the time:
The deed
In the spring of 1938, nature around Innsbruck was abused for propaganda purposes by the NSDAP. History has inscribed itself into society and landscape like a tattoo and can still be found in fragments today.
Or is it currently even reviving?
TOP SECRET is a reference project to an action that happened in Innsbruck in 1938.
The Reference To The Present
After 75 years of peace in Austria, I experience today political parallel developments to that time and feel compelled to raise my voice and to charge the place of the event = crime scene with a positive message.
Invisible Cities Innsbruck (submitted as Invisible Cities Lab)
A project by Peter Lorenz & The Doing Group
Funding amount: 15,820 Euro
Implementation: 2020/2021
Project description
Introduction
Invisible Cities Innsbruck is a world as diverse as the imagination of its inhabitants*. We all live our own realities of Innsbruck. How someone experiences and imagines the city shapes her/his individual version of Innsbruck - it is her/his Invisible City. The sum of all these Invisible Cities together, that is, the coming together of all the different realities of life of Innsbruck's inhabitants, makes up the city. The process-oriented performance project attempts to explore, document and discuss the multitude of lived perspectives and invisible city versions of Innsbruck.
Prologue
The sound artist Nicola di Croce from Venice developed together with local artists* the sound worlds of Innsbruck during quarantine times. In an attempt to develop participatory methods and collaborative processes, they make audible the diversity of Innsbruck's sonic realities in times of a global pandemic. The collected field recordings are combined with bells as sonic landmarks to explore urban resonances and create a multi-layered sound map of the city as a metaphorical table of contents of Innsbruck's Invisible Cities. This site-specific multi-channel sound performance was realized in collaboration with Innsbruck's Grassmayr Bell Foundry and openspace.innsbruck as part of the Heart of Noise festival and represented the prologue to the project.
The whole score project with 18 contributions can be seen and heard on magiccarpets-innsbruck. The contributions were made by Milena Meller, Anna Lerchbaumer, Lucas Norer, Andreas Zissler, Lukas Moritz Wegscheider and others.
Chapter
If we imagine the city of Innsbruck as a book, the reality of each inhabitant represents an independent chapter. Collecting these personal images of the city challenges the homogenized narrative of Innsbruck as a sterile old city for tourists and emphasizes the diversity that lies within the city.
To collect these realities of life in times of pandemic, a pizza box was filled with a digital and interactive performance machine. This pizza box performance was delivered directly to the participants* home from 28.9. to 4.10.2020 upon pre-order by phone at +43.681.20171494 in compliance with all hygiene regulations. Thus, socially engaged art could continue to be practiced as a system-relevant delivery service even in the event of another quarantine.
Within 30 to 60 minutes, participants* were introduced to the world of Innsbruck's invisible cities and guided to use their imagination to creatively transform the city through description, sounds and forms.
All created chapters were subsequently exhibited on the magiccarpets-innsbruck website.
Epilogue
As an epilogue to the project, all the collected cityscapes were exhibited together in the form of a mobile installation in public spaces in Reichenau, the Olympic Village, Wilten and Hötting West. As part of the Premier Days Innsbruck, the mobile installation is intended to help decentralize the perception of Innsbruck through creative activities outside the city center, while at the same time pointing to the diversity of the cityscapes of UNSICHTBARE STÄDTE INNSBRUCK. A pop-up city model made of pizza boxes housed the multitude of imaginative cityscapes that were turned into short videos by artist Eleni Palles. These creative versions of Innsbruck were thereby spatially juxtaposed with each other in a dialogue to discursively comprehend and collectively negotiate Innsbruck's identity.
Since this installation did not have the opportunity to be presented to the public in 2020 due to the lockdown and epidemiological measures, the UNSICHTBARE STÄDTE INNSBRUCK team took over in the Magic Carpets Year 4 project called "Da!zwischen".
Schedule:
Tuesday 15.6.2021
12:00-15:00 Olympic Village: DDr.-Karl-Lugger-Platz
16:00-19:00 Wilten: Wiltener Platzl
Wednesday 16.6.2021
12:00-15:00 Hötting West: parking lot in front of Kolpinghaus
16:00-19:00 Sillpark forecourt
Thursday 17.6.2021
12:00-15:00 Reichenau: forecourt Paulus church
16:00-19:00 Market place
Project team
Peter Lorenz
Nicola di Croce
Philipp Schwaderer & Jan Contala
Stefan Rasberger
Eleni Palles
ludwig technique
Danijela Oberhofer Tonkovic
Charly Walter
The Doing Group
city_potentials 2018
3.5.1945
A project by Hans-Jürgen Poetz
site-specific spatial intervention/sculpture 2017/18
On February 26, 1945, three agents of a U.S. Special Forces unit parachuted over the Sulztaler Ferner. Franz Weber, a deserted Wehrmacht officer from Oberperfuss (as a local resident he was responsible for contacts and hiding), and the Jewish emigrants Fred Mayer from Freiburg (scout) and Hans Wijnberg from Amsterdam (radio operator) had volunteered for this suicide mission called Operation Greenup in order to gather information about rail traffic to Innsbruck as well as about a planned mountain bastion in this strategically neuralgic area.
Many Tyrolean women also contributed significantly to the success of the mission, which resulted in Innsbruck being declared an open city on May 3, 1945 and handed over to the Americans without a fight. The daring Operation Greenup significantly saved Innsbruck from destruction in 1945.
As a reminder of the impact that courageous actions by a few individuals can have on many others, the date of May 3, 1945 appears as a site-specific sculpture made of large numerals in Innsbruck's urban space - a monument to the past and a weapon of the present. In this way, a story of courage, which mostly happens in silence, receives general attention. Only very few of all these small incidents, which together form the fabric of the course of the world, are known, because public perception is limited and historical consciousness is forgetful. To connect people and history, a website is being created to complement the project, serving as an information and open communication platform.
On the streets of Innsbruck. Documentation
A project by Soliarts
Implementation: summer 2018 until spring 2019
Project description
As part of stadt_potenziale 2018, a documentary about life on the streets of Innsbruck is being created. The project focuses on the perspective of people living on the streets with regard to the overnight ban as well as other displacement and prohibition policies as well as politicians* and associations for homeless people. In the period from July to December 2018, ten homeless people will be interviewed about how their lives are changed by the sanctions and what impact social discourses have on them. Soliarts provides with the project management and direction of Sarah Milena Rendel and the further team the realization and develops in a democratic process with the interview partners*innen a documentation of how life on the street develops, can change and which political measures are relevant for those affected. After filming ends in December 2018, the film will be shown publicly after three to four months of post-production, and there will be a discussion round with the contributors: This is expected to take place in spring 2019.
The freight station as urban potential
A project by aut.architektur and tirol
Realization: 09. and 10.06.2018
Project description
An area in the middle of the city, for years a projection surface of politics and administration as a future city district, but largely unknown in the public perception - the freight station in Innsbruck, a hidden pearl situated between the main station and the Sill River as well as between the new Innsbruck City Library from 2018 and the predominantly commercially used St. Bartlmä. Few Innsbruck residents know the area, have visited it or discovered its existing qualities, some work there, such as the almost 500 employees of the ÖBB and freight forwarding companies, and few use the area as a leisure space or retreat. This unknown space in the city is to be brought into public awareness via a broad cultural program as part of the Architecture Days 2018, which are taking place throughout Austria, and possibilities for networking with the neighboring districts are to be addressed, thus making the potential of this area visible.
The central venue will be the listed Remise, which will be used for the numerous program points and serve as a starting point for guided tours through the area. The site will be culturally recoded through lectures, exhibitions, film screenings, a panel discussion as well as a bar, a food market and a concert and thus made tangible as a future living space.
Cooperation partners: bilding, BBT SE, columbosnext, Ferrari School, LAAC Architects, Leokino, ÖBB, Stadtbücherei, die stadtführerINNen, Stadtplanung Innsbruck.
further information at www.aut.cc
The literary grab bag
A project of Literature Club Cognac & Biscuits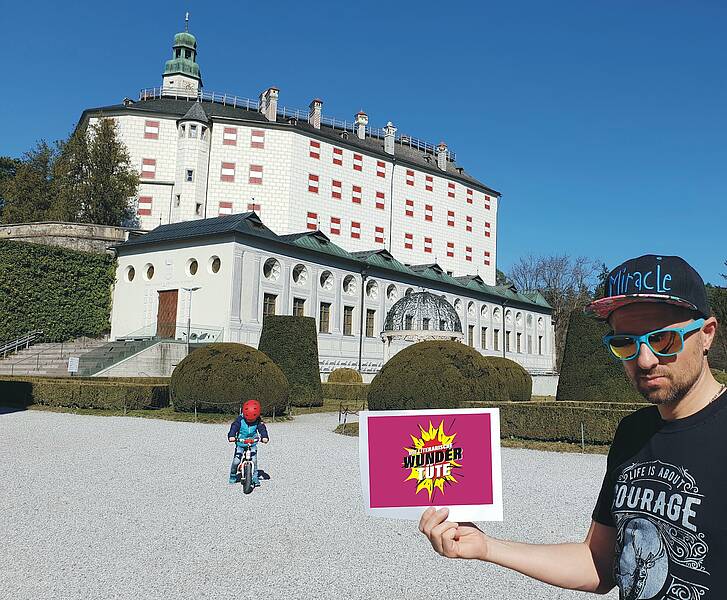 Project description
"Die Literarische Wundertüte" is issue no. 41 (21st volume) of the Tyrolean literary magazine Cognac & Biskotten and is to be realized in the Wunderkammer of Ambras Castle.
The urban Innsbruck literary magazine Cognac & Biskotten, which changes theme, format and presentation location from issue to issue and thus always reinvents itself, takes up the theme "Miracle?" after spectacular issues such as the literary streetcar or the literary plastic bag especially for its twentieth birthday.
Because it borders on a miracle that Cognac & Biskotten has reached the twentieth year of its existence. It is only thanks to tireless voluntary self-exploitation, the creative utilization of meager financial resources and immense stamina that Co & Bi will now be able to celebrate its twentieth year.
This "wonderful" occasion is to be celebrated by means of issue No. 41 "The literary miracle bag" at a "miraculous" place, namely in the Wunderkammer of the Ambras Castle, obliquely and appreciatively.
Original texts, which can be submitted by authors (from the entire German-speaking area incl. focus on Innsbruck/Tyrol), find place on the paper bag, as on the enclosed surprise gimmicks (e.g. postcards, stamps, sweets etc.), which are designed by Innsbruck (street art) artists.
The presentation will also be participatory instead of egoistic numerous et al. Tyrolean/Innsbruck artists, musicians and, above all, literary figures, thus opening up a festive, magical work of art on the theme of "Miracles?" for the participation/participation of numerous people.
Project implementation
The Tyrolean literary magazine Cognac & Biscuits presented its issue No. 41 "The literary miracle bag" on the theme of "Miracle?" by means of extraordinary round (ver)wunderung and entertaining music-literature happening on Saturday, October 5, 2019, at 15.00 through the Ambras Castle in Innsbruck.
Miracles? Who still believes in miracles nowadays? Are there still miracles at all? What actually is a miracle? The term "miracle" is commonly used to describe inexplicable, impressive, extraordinary events that astonish and amaze. Literally, people were already wondering in ancient times.
Also in the old Rome miracle things already appeared as "miraculum", which promised remarkable surprises. However, it was not until modern times that the "supernatural" meaning of the term came into play. In the 16th century, people were interested in the "wonders of nature," that is, rare and unique things, and then, from the Baroque period on, in grotesque, whimsical, and bizarre marvels.
All of these definitions fit wonderfully with the experimental (magazine) ideas of the Tyrolean literary magazine Cognac & Biskotten, which has been changing its theme, format and the presentation location of each publication from issue to issue for more than 20 years. As a "literary wonder bag," issue No. 41 contained a variety of surprising objects accompanied by literary wonder texts.
This hodgepodge of different objects, intended to inspire and touch, is also symbolic of the manifold ideas and actions of the Co&Bi history to date and serves as an example of how light-footed literary mediation can happen. This wonderful edition was presented in a special way at an extraordinary place:
On Saturday, October 5, 2019, more than 30 artists, authors and musicians moved through Ambras Castle together with the audience to the improvised sounds of musical presenter TubAffinity.
This round (ver)wunderung included numerous other curiosities as well as a visit to the Kunst- und Wunderkammer, which is the first museum in the world.
Musical acts:
Peter Brugger/Sportfreunde Stiller
Daniele Groff (I) - Winner Festival di Sanremo Giovani
Julia Costa
TubAffinity (moderation)
& other guests ..
Literary and artistic acts: Christian Yeti Beirer, Stefan Breitenfeld, Anja Ellen Dahlke (D), Katja Decher (D), Sylvia Dürr, Julia Ecker, Peter Giacomuzzi, Michaela Grüdl-Keil (D), Heidemarie Haller, Anita Hetzenauer, Brigitte Jaufenthaler, Evelin Juen, Angela Lackner, Michaela Mechura, Janine Messner, Maria Muster, Wolfgang Nöckler, Christine Maria Oberauer, Wolfgang Praßl, ChristiAna Pucher, Susanne Rasser, Maria Schätzer, Thomas Schafferer, Gabriele Schneider, Elke Steiner, Brigitte Stolz (D), Erika Wimmer Mazohl, Frank Wittmer (D) and Dorle Zobl.
The overall composition for the project is by conceptual and multimedia artist Thomas Schafferer.
Funded within the framework of stadt_potenziale innsbruck 2018 and by: Federal Chancellery, Province of Tyrol and City of Innsbruck.
Experimental areas as urban potential
A project by Spielraum für alle (Leonie Schickedanz)
Durchführung: 14.02.–14.08.2018
Project description
Cities and regions will be sustainable if residents are eager to learn and perceive societal problems as their own opportunities to shape the future: Within the framework of the project, the Spielraum collective wants to provide an interplay of experimental spaces (FabLab + Kochlokal + roof garden + multifunctional spaces) as urban potential, which, in addition to a do-it-yourself mentality, cultivate an open attitude towards novelty in the individual - always integrated into the community. The focus is on the social responsibility of contemporary cultural work and the desire to exploit the potential of participation within Innsbruck and the Tyrol.
Contemporary cultural work as potential for the future For the members of the collective, the concept of cultural work means first and foremost the search for solutions to the problems and needs of our time and society. Understanding one's own living environment as a space that can be shaped and as an opportunity to productively intervene in socio-political issues is to become more self-evident in the sense of a culture for all . Creative processes and products that focus on the social responsibility of design processes in public space in different ways and that question and redefine the role of the actors are promoted.
Cultural work as intervention and interaction What potential that helps in the search for solutions is in all of us? What Schiller once thought: "Man plays only where he is man in the full meaning of the word, and he is only fully man where he plays," is confirmed today by brain researcher Gerald Hüther: In play, people develop their potential, in play they experience liveliness, the ability to play together means potential development of cities and communities!
For this purpose, there should be room for everyone to play: People of all colors should be brought together in one place and made to play . For this purpose, the association provides free and inspiring spaces, snatches people away from the world of instrumental thinking, shows them possibilities of experience that are buried in everyday life, and thus triggers creative (working) processes in which all participants experience themselves as effective!
Over a period of two months, an open (play) workshop is to be set up two days a week as part of the project "Experimental spaces as urban potential", with a spatial infrastructure and a support team that ensures compliance with safety measures and provides assistance on the proper use of equipment and materials. For this purpose, one specialist from the playroom team is available for each floor (FabLab + kitchen including multifunctional rooms). This framework allows all users to learn a broad range of equipment skills as a prerequisite for DIY and to become creatively active in a space free of specifications. In addition, the processes are accompanied and evaluated by a student of psychology in order to analyze the effect of contemporary educational and cultural work and to make it accessible to the public. The results will be documented in a project report and presented on the website.
In Spielraum für alle we are concerned with a playful basic attitude towards life, which cultivates the following qualities in collective work and design processes: A free togetherness in which people do not instrumentalize each other, in which they are not guided by strategies and calculations, not dominated by instrumental reason that measures everything according to its parameters: efficiency, productivity, profitability, functionality. It is about a basic attitude to life that dares to put itself on the line, that keeps itself open to new horizons and undreamed-of perspectives, that summons up the courage for co-creativity and unusual solutions, and not only where the game is played in the narrower sense, but also in the regions of our living world that are, for the time being, far removed from the game. In other words, it is about an expansion of the play zone: from the playroom to the public space, from the private to the urban context, from children's play to the playful co-creation of one's own society/city/environment.
further information at www.spielraumfueralle.at
FAR a DAY
A project by Kunstverein Sabotage
Project description
FAR a DAY is the world's first offline civil oasis. FAR a DAY is a place of manual discourse. FAR a DAY is a spatial sculpture that can be experienced invisibly.
FAR a DAY is a challenge to a society of the bowed head - an objectification of our surroundings: urbanity and reference to nature.
In the fall of 2018, the world's first offline oasis will open with a broad public in a new temporary art space in Innsbruck. The artistic sculpture FAR a DAY by Robert Jelinek serves as a functionally illustrative manifesto for discourse taking place there in the future, our approach to communication and aspects of our urban coexistence. For, the architectural skeleton in FAR a DAY shields any electrical radiation from the outside and thus one is not reachable. The artistic sculpture is only visible on the display on cell phones, IPads or laptops of the visitors - and as a "bar without reception".
For echo
A project by Andreas Stecher
Project description
Outdoor percussion recordings in and around Innsbruck, based on "natural" echoes. Andreas Stecher and Katharina Ernst, both professional percussionists, relocate urban music practice to the mountain world and test or feel their way to site-specific compositions for drums and percussion based on the reverberations thrown back by mountains and lakes - an experiment in which space is understood as rhythm, where rhythms unfold based on distances, echoes and reverberations. Innsbruck as a starting point for the project is ideal, as the surrounding area is already known and a social network can also contribute to the support of the project. A presentation of the project in Innsbruck is possible in different forms: If an "echo venue" close to the city should arise, a composition could be presented live in situ, otherwise a listening session or also an installative presentation could take place in a suitable setting in Innsbruck (bakery, p.m.k etc.). Furthermore, the release of a sound carrier as well as further presentations in Germany and Austria are planned.
Heart of stone - bettlefield IBK
A project by Daniel Jarosch, Stephan Pirker, Kata Hinterlechner
Project description
As part of the project, 400 stones about the size of a fist will be taken from Frau Hitt, painted and given an identifying mark. In cooperation with the Bettellobby Tirol, the Innsbruck Streetworkers and the homeless shelter Pradl, the project executors try to get into trusting contact with begging people in Innsbruck throughout the year. During the Advent season, they rent a stand at the Innsbruck Christmas market or in the immediate vicinity of it and set up a hut there. During the market time, the hut serves as an information stand for initiatives to fight poverty (Bettellobby Tirol, Streetwork Verein für Obdachlose ...).
Interested and committed people can inform themselves there about the situation of people threatened by poverty in our city. Affected people can use the room to warm up and as a counseling center. They can find out about their legal situation and contacts are made with social institutions and emergency shelters. There will also be a screening of the film "Begging. People. Rechte" by Monika Zanolin (2015) in the surroundings of the "Hütte" as well as a discussion event with specialists on the topic of poverty is planned.
In addition, and most importantly, at the stand you can adopt a colorful stones for a donation of 10 €. Donors will be informed that they are welcome to give the stone to a begging person in Innsbruck. The stone doubles its value through this act, so to speak, because the beggar receives an honorarium of 20 € from us for her participation in the art action when she returns the stone. The "given away" stones are collected daily by the project operators or can be delivered to the hut. In spring they will carry the stones together with as many people as possible back to Mrs. Hitt, where they will attach a stone sculpture to the heart of the petrified giant queen. This sculpture will be a memorial against impending petrification.
another project of stadt_potenziale by Daniel Jarosch
Reclaim your club!
A project of the cultural association Contrapunkt
Project description
Techno as a particular form of a collective lifestyle is located as an urban music culture primarily in the club context. The club serves as a place of urban channeling of electronic music, where people find space for hedonism and escapism from everyday life. Despite the nightly exit of people from the capitalist compulsory everyday life, the club remains part of society as a real place. Discriminations such as racism, sexism, anti-Semitism, homo- and transphobia are produced and reproduced in the club context. In addition, all too often a door policy is operated that functions according to racist and sexist criteria. Verbal and physical assaults are only a small part of the current club life and are hardly addressed by the club operators. The focus is on a financially successful evening and not on the experience and well-being of the visitors and the music of the artists.
Additionally, the bookings of most clubs function according to conventional social criteria, where "white men produced by the mainstream are foregrounded and given their stage." Patriarchal club culture, reflects the hierarchical place of women. Female artists are an exception, whereas the place behind the bar is clearly attributed to the smiling serving barmaid. Musical and media-artistic experiments - "off the beaten track" - are searched for like the much-cited needle in a haystack.
All the problems of the current club landscape - also in Innsbruck - produce a microcosm, which we try to critically question with our event series and to think of alternatives. Against this background, we think it is central to talk about the specific cultural production and its mechanisms in club contexts. The aim is not only to find solutions to these challenges, but also to name the social conditions and discriminatory behaviors within our free spaces in order to counteract them in the sense of an emancipatory club culture. Therefore, with our club format "Reclaim Club Culture" we will reflect the club as a space, our role as organizers in this project to position ourselves politically.
02.11.2018, p.m.k: first event of "reclaim your club"
On November 2, 2018, the cultural collective Contrapunkt launches the project "reclaim your club". The aim is to reclaim the club as a space for political debate and critical positions. For this purpose, two evenings are planned in Innsbruck, which will temporarily become a critical club space. The implementation of emancipatory practices and demands requires not only the ability to reflect and self-criticism, but also a theoretical examination of one's own cultural production. Therefore, each event will have a thematic focus.
:::reclaim your club - club against reality - space for political club culture:::
The first event will take place at p.m.k. in Innsbruck. For this evening the artists SØS Gunver Ryberg, nita.(Anita Brunnauer), Whyami and Therese Terror have been invited. The latter is part of the Viennese collective femdex. Therese Terror will be a guest at the talk both as a DJ and as a discussant. She will talk about her work at femdex and her Utopia 3000 events. Framework conditions of emancipatory club culture and possibilities of political club work will be discussed. see also: www.contrapunkt.net
21:00: Talk (Free) with Therese Terror (Menophilias/femdex/Hyperreality) about perspectives and limits of emancipatory club culture femdex - A female list is the name of the Viennese initiative. They have made it their mission to promote female and non-binary artists* within contemporary club culture and electronic music. Since 2016 they have been hosting their Utopia 3000 series in Vienna. Therese Terror, herself a DJ, talks about the work and experiences at femdex. In addition, the question of political club work will be discussed: What conditions are needed to develop an emancipatory club culture?
23:00 (€ 10,-) "club against reality" with the following artists*
THERESE TERROR (MENOPHILIAS / FEMDEX/HYPERREALITY) Therese Terror is a DJ, organizer and businessman. Specifically, she is active at femdex, co-organizes Utopia 3000 and is responsible for the Zur Gönnerin line-up. She curated the line-up of Electric Spring Festival 2018, and while Therese Terror is busy DJing at night, during the day she takes care of Rrriot Festival, which focuses on feminist discourse, as well as countless other projects that fall somewhere between gainful employment and volunteering. Her sets move primarily between house, techno, acid, electro and pop. Genres are super, but Therese Terror moves relatively free of labels between different areas of electronic music, shies away from neither mainstream nor niche and wants one thing above all: to see the audience sweat. www.soundcloud.com/thereseterror
http://facebook.com/thereseterror0/
http://instagram.com/thereseterror/
https://www.residentadvisor.net/dj/thereseterrorTh
GUNVER RYBERG LIVE (KOPENHAGEN) The Danish artist and composer SØS Gunver Ryberg performs with an endless energy that challenges your state of consciousness: Wielding an arsenal of vigorous industrial rhythms, raw techno and expressive sound art. Her live sets are a terrifying sonic barrage of frenetic drum machines, murky drones, and walls of chaotic overdrive that aim to induce a transformative experience. SØS Gunver Ryberg's work embodies her rich production history. Stemming from performance art, her "site specific" performances, whether in the form of a sound installation, computer game soundtrack, audio walk, live club set or even debut release "AFTRYK" on Contort Records, all explore the potential of acoustic space. Raw and industrial, wild and sensitive, SØS Gunver Ryberg's music - comprising two albums and a split EP with Aisha Devi, Rrose and Paula Temple since 2014 - is closer to sound art than to pure techno. A barrage of ferocious sounds, an avalanche of epic rhythms, as merciless as a winter in Copenhagen: welcome to the modular world of SØS Gunver Ryberg. Somewhere along the intersection between electronic music and sound art, SØS's characteristic style is recognised for it's insistent rhythms, combined with a meticulous exploration of textures and timbres, raw sounds are framed by symphonic forms to create a unique expressivity . www.sosgunverryberg.com/
nita. (VISUAL ARTIST/sound:frame av) Anita Brunnauer aka nita. lives and works in Vienna as an independent graphic designer. In early 2014 followed the founding of nita. studio for visual design. nita. is a member of the sound:frame AV label as well as since the beginning of the silence Duzz Down San Records Graphic Ghost. The visual style can be described as a constant shift between daydream and nightwatch, surface and depth. A visual tightrope walk between kitsch and melancholy. Abduction into a surreal forest of images, where animals mutate & forgotten ancestors are bedded on leaves. nita. will provide the visuals at p.m.k. this evening. www.studionita.at
WHYAMI (brooke, ibk/vie) Whyami will demonstrate her interpretation of techno: "Techno. obey destroy devour. ebm/acid/electro/industrial. in postfactual times it doesn't matter anyway. just because we're all doomed doesn't mean we can't have a good time. just rave."
At the events of the cultural collective Contrapunkt, aggressive behavior and discrimination such as racism, sexism, anti-Semitism, homo- and transphobia have no place! "Respecting each other is the key!"
Many thanks to the Reclaim Club Culture network and its primer: https://menschmeier.berlin/fibel.html
17.05.2019, Young Valley Station: reclaim your club event
On May 17, 2019, the cultural collective Contrapunkt continues the project reclaim your club. The club is thereby to be reclaimed as a space for political debate and critical positions. For this purpose, two evenings are planned in Innsbruck, which will temporarily become a critical club space. The implementation of emancipatory practices and demands requires not only the ability to reflect and self-criticism, but also a theoretical examination of one's own cultural production. Therefore, each event has a thematic focus.
At the events of the cultural collective Contrapunkt, aggressive behavior and discrimination such as racism, sexism, anti-Semitism, homophobia and transphobia have no place! "Respecting each other is the key!"
Many thanks to the Reclaim Club Culture network and its primer: https://menschmeier.berlin/fibel.html
Vulcania (submitted as vulkano)
A project by Nicole Weniger
Project description at submission
There are a number of myths surrounding the Patscherkofel, Innsbruck's so-called local mountain. The rumor that the Patscherkofel is an extinct volcano is persistent. How firmly a scientifically unfounded idea can sit in people's minds when it is told often enough is illustrated by the fact that until a few decades ago the volcanic origin was even taught in some schools.
Based on this myth, Nicole Weniger initiates a participatory project in public and institutional space. In the project, the question of a so-called "original identity" of the people of Innsbruck is explored or rather searched for inside the Patscherkofel. A transformation takes place. A new identity can emerge. Absurdity and fiction play the leading role and maneuver us into a world between secret and uncanny.
The relationship between man and his surroundings, or between the city and the landscape, is examined and medially presented in the form of a performance and a short film. How much do we identify with our surrounding landscape? What myths are spun around it? How can we react to this artistically and reshape myths?
Project realization
Based on the myth that Innsbruck's local mountain, the Patscherkofel, is an extinct volcano, Nicole Weniger initiates the performative research project VULCANIA. Beings that originate from the presumed volcano and have been on its surface and surroundings since last year are the main protagonists. They raise the question of which origin, activity, etc. is decisive, or pretends to be so, in order to be able to describe themselves as "urtypical", "native", in the sense of belonging and contrary to "zuagroast" (moved to). In the project, the question of collective identity and belonging of the inhabitants of the alpine region and beyond is explored. A change of perspective can take place and the question of one's own belonging imposes itself and leaves room to mix the old with the new. What can emerge from this transformation? Absurdity and fiction play the leading role and satirize the theme. The truth content of photographs and their power to form opinions and collective identities is an important part of the examination of this theme. The relationship between people and their surroundings, or between the city and the landscape, is examined in the form of cinematic and photographic stagings. How much do we identify with our surrounding urban and natural landscape? What myths are spun around them? How can we react to this artistically and reshape a myth?
Further information on the project at www.nicoleweniger.com
Waiting is not equal to waiting
A project by Carolin Vonbank and Emad Husso
Project description
Waiting is not equal to waiting - is an art installation that aims to refer to the active process of waiting of people in the asylum process through a short film. Waiting is a familiar state for each and every one of us, one that we have all experienced in one form or another. However, asylum seekers sometimes wait for years for an interview that will determine the course of their lives moving forward. Many people, both on the outside and on the inside, are not aware of the effect this stage in a person's life can have. The installation wants to show the effects that this process of waiting can have. For this purpose, the film will be shown at a place of waiting, departure and arrival - the main train station in Innsbruck. By placing the installation in a public space of encounter, the theme is to be made visible to a wider audience.
This might also interest you: