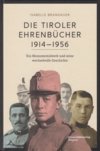 Die Tiroler Ehrenbücher 1914 - 1956
Ein Monumentalwerk und seine wechselvolle Geschichte
The Tyrolean honor books took their origin in the early phase of the First World War. After visiting the memorial site at Tummelplatz near Amras, the then director of the Tyrolean Provincial Archives, Karl Böhm, set himself the goal of recording all Tyrolean fallen in a compilation. However, it was not foreseeable at the time that the project would take over 13 years to complete. In the end, more than 23,000 deceased Tyroleans found their way into the Tyrolean Book of Honor of the First World War.

After the end of the Second World War, Böhm continued the project in a similar manner and the fallen of the wars from 1796-1814 were also systematically recorded. In addition, a list of all war memorials in Tyrol was added.

The history of the creation of the books of honor is characterized by the turmoil and thousands of deaths of the two world wars, a tangible copyright dispute, touching individual fates and the tireless commitment of their creator Karl Böhm.
| | |
| --- | --- |
| Authors | Isabelle Brandauer |
| Series | Neue Folge |
| Volume | 73 |
| Pages Count | 208 |
| Release Date | 2022 |
| ISBN | 978-3-7030-6572-9 |
| Publisher | UVW |